Dear Readers of LeonardoVfashionbook we are honored to present an Exclusive Interview about the  Amazing Make-up Artist Einat Dan to uniquely capture a woman's individuality with surprising influences and new ideas.She celebrates the indefinable mystique of women and the complexities of individual character with a spirited attitude that begs, unwittingly revolutionary perpetual reinvention, uncovering aspects of her personality that no one had ever seen, conveying an innate vulnerability, sensuality and timeless glamour captivating mystery of modern women in constant demand for her unique perspective.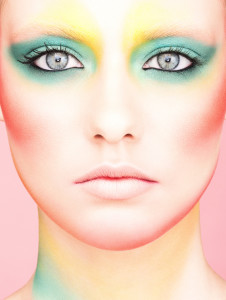 "Believe in yourself, follow your heart, your dreams
and keep your passion alive"
with love and colors,
Einat Dan
Einat Dan international make- up & hair artist.
*The winner of the Golden mask award 2014 in the "make up design show Germany"
*award winner in the best make-up category of the " international fashion film award 2013"
Einat was raised in a small town in northern Israel, at the age of 18 she moved to Tel Aviv and during that time started her two years military service. At the end of her service she decided to follow her dream and started her career as a makeup artist. Her makeup artist career started off in Tel Aviv and 2 years in New York.
For several years Einat was based in Italy…..Today Einat is based in Berlin, Germany. From here she is practicing her art as one of the leading makeup artist in the industry of fashion, beauty and body painting.    Besides this she also works at fashion shows all over the world. Einat working also as art director , set designer and art pieces created by her in many fashion editorials and magazines covers .
In her successful career it's possible to count numerous awards in professional makeup and bodypainting contest . Einat holding 17 world award trophies since the beginning of her career , she is one of the biggest inspiration for many makeup artists all over the glob .
Einat also travels all around the world as a master makeup artist running master-classes and workshops for professional makeup artists with her unique technique. 2012 Einat created her line of make up brushes.